WHO
WE ARE

Timothy Morton, Philosopher and author of among others HyperObjects and Being Ecological


We are facilitators with many years of experience in public and private sector, leading teams, coaching and working with transformation on strategic levels.

We are artists and writers who bring a multisensorial approach to everything we do, creating learning environments that are fun and useful for everyone.

We work with storytelling, performativity and play.



Participant, Boiler workshop.


Pernilla Glaser is the founder of Boiler.

She is obsessed with conversations. To have and to host them, to facilitate them and understand the impact they might have had. She creates experiences and tailormade methods to share, reflect and grow. Pernillas conversations can be creating sculptures, meditating (she is also a trained yoga teacher) sharing a delicious meal full of surprises or enjoying a trust-building quiet reflection. Pernilla works with facilitators and change-makers on how to host, play and push yourself as a leader along with your team.

She has extensive experience in coaching change and collaborative processes with particular skill in interdisciplinary contexts. Her main focus has been innovative learning-environments and the intersection between artistic practise and urban development. She has worked with numerous research-platforms and curated processes for collaboration between research-areas and research in interplay with art, civil society and other societal institutions.

FOTO: ELISABET OLSON
Pernilla is a writer who has published a number of of novels and written plays for the Swedish Radio Theatre and others.
She started out as an award-winning theatre director and has worked a lot with storytelling and performativity.
Pernilla is a guest teacher at the Academy of Dance and Circus.
Pernilla is also a moderator and a lecturer.
︎ Boiler creates knowledge about changemaking, reflection and meaning.
︎ We work across sectors, disciplines and expressions.
︎ We assist companies, public sector and civil society in creating learning-environments, transformation and actionplans for dreamscapes.
︎We make experiences that creates conversations.
︎ We educate facilitators on basic meeting-techniques.

︎ We educate facilitators and activists in recovery and sustainible changemaking.
︎ We educate in social sustainibility and justice.
︎ We create active teams that can use diversity as resource.
︎ We create methods and tools to assists process over project.
︎ We create support for inter-competence and cross-disciplinarity.
Karin Gardes, COO Chief Operating Officer
WHAT
WE DO


MARCH 2020

A toolbox with the purpose to co-create a platform for shared knowledge about community-building remotely or in shared physical spaces.
MARCH 2020
NEW BOOK
If you are interested in Pernillas book about facilitation "Translating Differences; Making community through play" you can order one here.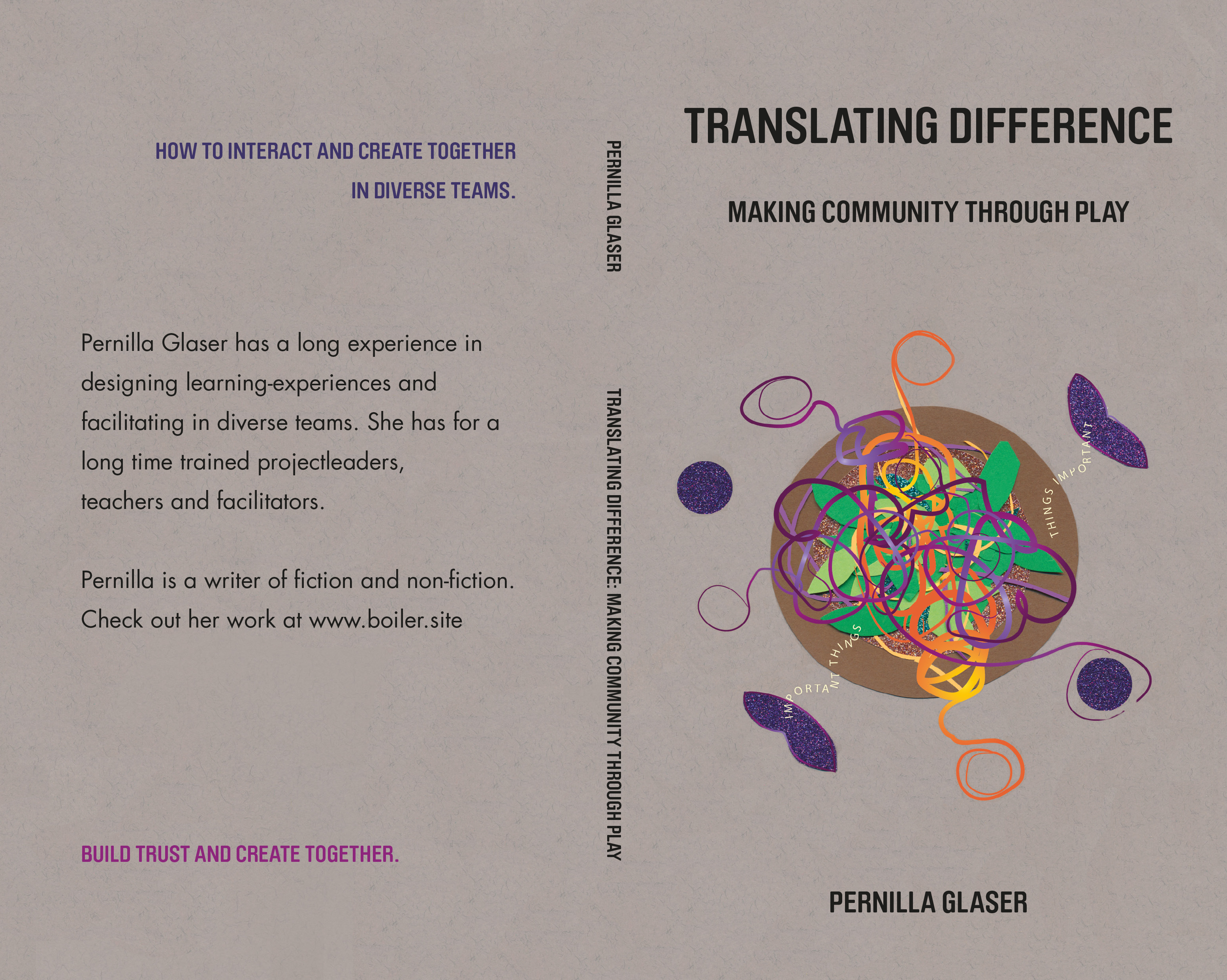 COVER: MARIA ANDERSSON ︎
We collaborate with creators and innovators from a multitude of arenas.
JOHN-PAUL ZACCARINI
PHOTO: JAMES BARRETT
John-Paul Zaccarini is Associate Professor at Stockholms Konstnarliga Hogskolan. His current research is based around the ethics of autobiography, Intersectionality and the use of aesthetics as political tool. He is Ph.D in Performance Studies (DOCH/Stockholm University), a psychoanalytic scholar and a Spoken Word Performance Artist.
John-Paul uses creative writing methods to guide participants on journeys that deepen their understanding of the roots of their creative impulse, in order to clarify and strengthen their practice.
KERSTI HEDQVIST
With a long career within the public sector, Kersti wants to use her experiences and knowledge to change leadership, process leading, coaching and leadership. Her experience includes several management teams including the one she is leading.
During her years in the public sector, she has worked with real estate, business development, organization development amongst many other. Kersti is a true generalist and knows a little of many things with an ability to quickly understand the essence of new areas.
The use of play and humor as tools is both disarming, it's building teams and creates openness and trust.